The current skincare routine for US women, factoring in the pandemic's impact, includes an average of five products daily, with users focused on a baseline facial skincare routine, including a combination of basic care and targeted treatments. This is according to Larissa Jensen, NPD's beauty industry adviser.
Beauty Routines: Skincare
The most recent skincare and beauty routine survey (2017) carried out by the premium beauty retailer SkinStore on 3,000 US women aged between 16 and 75 revealed that 85% of US women used 16 skincare and cosmetic products every day, ranging from eye creams to moisturizers, foundations and brow products.
The illustration below shows the daily 16 step line up of the skincare beauty routine of these women.
The study also shows that 85% of US women mix up their beauty brands, with 15% staying loyal to one brand for their whole regimen.
A full 45% of the women spend 7 minutes to apply their makeup, while 55% spend 6 minutes removing their make-up at the end of the day.
According to the study the average worth/value of a woman's daily face care beauty and makeup routine costs $8 per day.
With regard to regions, women in the east coast spent the most with an average, with those in New York, Connecticut and West Virginia averaging an $11 face care and beauty daily cost. On the other hand, the US west coast states such as Utah, Colorado, and Montana spending averaged a $4 daily cost.
The figure below illustrates the face care and beauty daily cost per state, particularly those with the lowest and highest values.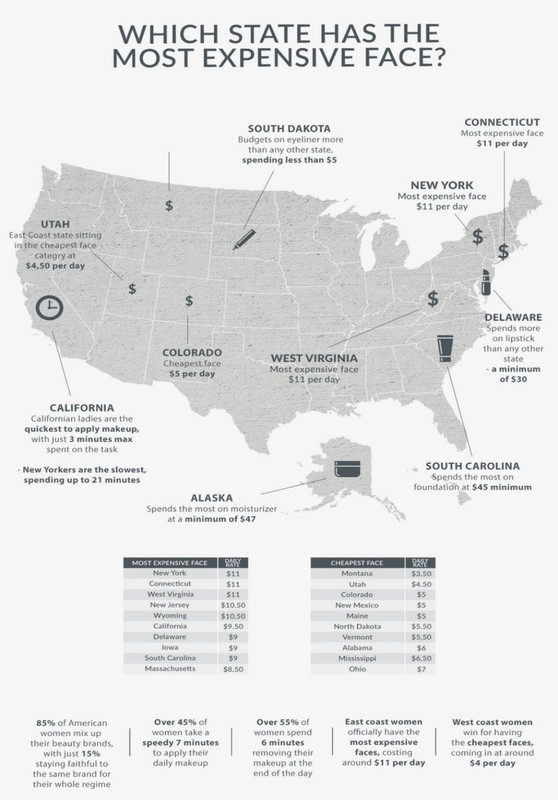 Additionally, a 2020 study conducted by OnePoll for Groupon showed that women are most likely to spend the most money on facials, followed by haircuts, makeup, manicures, and pedicures, i.e women preferring to spend money on beauty rituals and experiences as opposed to simple products.
The NPD Group's 2020 Women's Facial Skincare Consumer Report indicates that COVID-19 has altered US women's skincare routine positively.
A full 22% of women are washing or moisturizing their face more often as a result of the pandemic, with one-third expanding their routine to include more products, including plans to uphold the new routine post-pandemic.
Meditation & Exercise As a Beauty Routine
Women in the United States have highly prioritized meditation and exercise as a beauty routine. Meditation has a positive impact on the skin because it reduces stress and anxiety. Exercise, on the other hand, makes the skin to appear younger and smoother.
Meditation
Exercise
American women have prioritized exercise as part of their beauty routine. The many boutique fitness studios in the US targeting women attest to the trend.
To many women, workouts are a way of life and magical. Approximately 18.2 million American women have enlisted to at least one fitness studio. Some are even willing to pay hefty amounts for the classes.
Women in the US prioritize exercise because besides having good hair, a typical American woman would want to have a fit and lean body. The unrealistic body images in the media, including social media such as Instagram have put pressure on the American woman to be strong and skinny.
Exercising also has a positive impact on the skin appearance because it improves blood flow and reduces stress. The toned muscles due to exercising also make the skin appear smoother and firmer.
Exercising as a beauty routine among American women has been negatively impacted by COVID-19 pandemic. With most workout studios and gyms closed momentarily, many women are forced to work out at home.
Some are streaming on-demand fitness classes to keep up with their beauty routine.